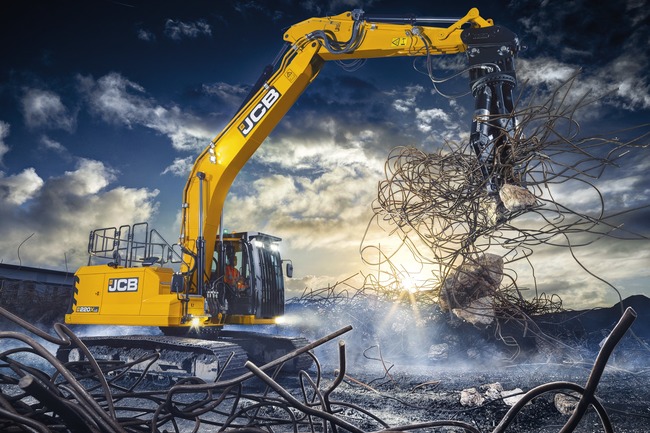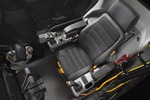 JCB

220X EXCAVATOR
Large Excavators
The 220X was the first X-series machine offered in North America and is JCB's most advanced 20-ton tracked excavator, with exceptional performance and build quality.

Features
Double-skinned doors with new plated hinges

Latest generation Japanese hydraulics

Tier 4 Final compliant JCB EcoMAX engine

EPD coating for improved corrosion resistance

Proven undercarriage with fully-welded X frame construction

33,721 lbf bucket tear out

Spacious JCB CommandPlus cab

Low in-cab noise of 67dB(A)

Extreme Strength: After four years of hydraulic, electronic and electrical development, and thousands of hours of extreme endurance testing, the JCB 220X excavator is a machine you can depend on. Not just reliable, the 220X is built JCB-tough, to withstand the most demanding job sites. The 220X excavator has been tested to the extreme. It has endured tracking and vibration on a shaker rig to replicate 15,000 hours of operation. Windows and doors have been opened and closed 30,000 times. Hot and cold climate testing has been performed in controlled conditions and real-world locations, from -22°F to 130°F. JCB engine technology is tried and proven; the EcoMAX engine in the 220X has undergone 110,000 hours of testing in 70 different machines, in the toughest applications and environments on the planet. JCB's latest boom and dipper is made of high-tensile steel, reinforced with three-piece wrapper plates and cast ends for extra strength and durability.

Extremely Easy: Customer and operator feedback, blended with the latest in ergonomic design, has created a 220X that is easy to use and easy to transport … making it easy to get more done. A new start-stop button eliminates the need to turn the key to restart, allowing a return to operation within two seconds. Pipework shut-off taps are standard and SAE fittings enable quick connection of attachments. The easy quick hitch further simplifies operation, with an override for removing large breakers or forks. JCB's advanced tool select system improves attachment handling by monitoring pressure and flow.

Exceptional Comfort: Ergonomic design, automotive-quality materials and engineering excellence combine to deliver exceptional comfort. And with exceptional ride comfort and low noise levels, even the most demanding operator will be more productive. The spacious JCB CommandPlus cab features a high-quality, injection-molded interior. An industry-leading Grammer seat offers wide, adjustable arm rests and 145-degree recline capability. Improved cab isolation, using latest double cushion viscous mounts, helps to minimize vibration and reduce cab noise to just 67 dB(A). A powerful new climate control system, with 11 targeted vents, provides optimum performance in hot and cold environments and the cool/heat box comes as standard.

Start-stop button for easy restart

Excellent Control: Four years of JCB hydraulic engineering development, combined with the latest Japanese components, has created an ideal balance of controllability and efficiency. Customizable proportional controls allow the operator to set preferences for speed and attachment control. A new dozer option adds extra versatility. Additionally, the boom float feature allows for smooth grading along hard surfaces and improves breaker efficiency by applying the correct amount of pressure. A power boost button increases pressure by 10 percent for brief bursts of extra tear out force … perfect for tough conditions.

Experience Greater Performance: JCB has invested four years of research and development, inspired by the feedback of thousands of customers, to build a machine that is ready to perform in the most extreme conditions, including freezing cold or 131ºF heat. The 220X works with extreme efficiency, whether on the demolition site or in the quarry. The productivity of the JCB X-series cannot be matched. The 220X offers a massive 33,721 lbf bucket tear out and fast cycle times. Large diameter hydraulic pipes and hoses enhance efficiency, and auto-stop and auto-idle deliver fuel savings of up to 5 percent. JCB offers a factory-fit GPS option for fitment of 2D and 3D systems.
Specifications
null:

Gross Engine Power:

173 hp
129 kW

Max. Dig Depth:

22'0"
6.71 m

Operating Weight:

52,450 lb
23,791 kg
Features

Features

Double-skinned doors with new plated hinges

Latest generation Japanese hydraulics

Tier 4 Final compliant JCB EcoMAX engine

EPD coating for improved corrosion resistance

Proven undercarriage with fully-welded X frame construction

33,721 lbf bucket tear out

Spacious JCB CommandPlus cab

Low in-cab noise of 67dB(A)

Extreme Strength: After four years of hydraulic, electronic and electrical development, and thousands of hours of extreme endurance testing, the JCB 220X excavator is a machine you can depend on. Not just reliable, the 220X is built JCB-tough, to withstand the most demanding job sites. The 220X excavator has been tested to the extreme. It has endured tracking and vibration on a shaker rig to replicate 15,000 hours of operation. Windows and doors have been opened and closed 30,000 times. Hot and cold climate testing has been performed in controlled conditions and real-world locations, from -22°F to 130°F. JCB engine technology is tried and proven; the EcoMAX engine in the 220X has undergone 110,000 hours of testing in 70 different machines, in the toughest applications and environments on the planet. JCB's latest boom and dipper is made of high-tensile steel, reinforced with three-piece wrapper plates and cast ends for extra strength and durability.

Extremely Easy: Customer and operator feedback, blended with the latest in ergonomic design, has created a 220X that is easy to use and easy to transport … making it easy to get more done. A new start-stop button eliminates the need to turn the key to restart, allowing a return to operation within two seconds. Pipework shut-off taps are standard and SAE fittings enable quick connection of attachments. The easy quick hitch further simplifies operation, with an override for removing large breakers or forks. JCB's advanced tool select system improves attachment handling by monitoring pressure and flow.

Exceptional Comfort: Ergonomic design, automotive-quality materials and engineering excellence combine to deliver exceptional comfort. And with exceptional ride comfort and low noise levels, even the most demanding operator will be more productive. The spacious JCB CommandPlus cab features a high-quality, injection-molded interior. An industry-leading Grammer seat offers wide, adjustable arm rests and 145-degree recline capability. Improved cab isolation, using latest double cushion viscous mounts, helps to minimize vibration and reduce cab noise to just 67 dB(A). A powerful new climate control system, with 11 targeted vents, provides optimum performance in hot and cold environments and the cool/heat box comes as standard.

Start-stop button for easy restart

Excellent Control: Four years of JCB hydraulic engineering development, combined with the latest Japanese components, has created an ideal balance of controllability and efficiency. Customizable proportional controls allow the operator to set preferences for speed and attachment control. A new dozer option adds extra versatility. Additionally, the boom float feature allows for smooth grading along hard surfaces and improves breaker efficiency by applying the correct amount of pressure. A power boost button increases pressure by 10 percent for brief bursts of extra tear out force … perfect for tough conditions.

Experience Greater Performance: JCB has invested four years of research and development, inspired by the feedback of thousands of customers, to build a machine that is ready to perform in the most extreme conditions, including freezing cold or 131ºF heat. The 220X works with extreme efficiency, whether on the demolition site or in the quarry. The productivity of the JCB X-series cannot be matched. The 220X offers a massive 33,721 lbf bucket tear out and fast cycle times. Large diameter hydraulic pipes and hoses enhance efficiency, and auto-stop and auto-idle deliver fuel savings of up to 5 percent. JCB offers a factory-fit GPS option for fitment of 2D and 3D systems.

Specifications

Specifications

null:

Gross Engine Power:

173 hp
129 kW

Max. Dig Depth:

22'0"
6.71 m

Operating Weight:

52,450 lb
23,791 kg
Other Large Excavators Models