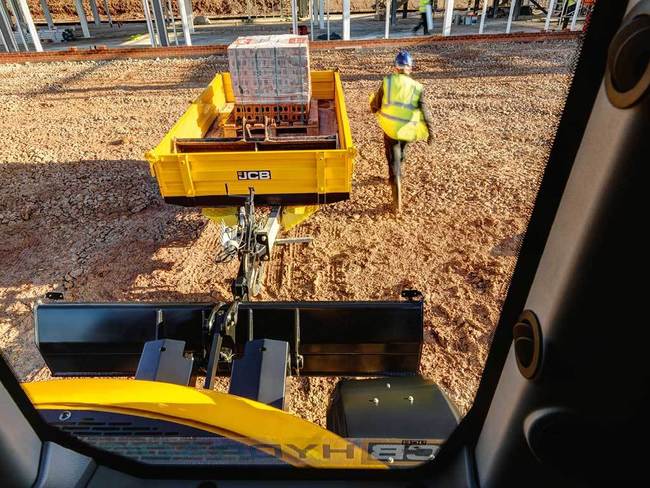 JCB

HYDRADIG 110W
Large Excavators
The JCB Hydradig 110W is the first wheeled excavator and tool carrier designed for purpose and without compromise. The result is an engineering masterpiece. JCB is the first to move the engine, tanks and ancillaries to the chassis, making the JCB Hydradig 110W first for visibility, stability, maneuverability, mobility and serviceability.

Features
First For Mobility: With a top speed of 25 mph (40 kph) from a T4F 109 hp (81 kW) EcoMAX engine and step-less transmission, the JCB Hydradig 110W, allows you to travel faster around and between sites, and in greater comfort…and eliminates the need to hire or purchase additional transport equipment. Three mobility modes allow the operator to set the JCB Hydradig 110W for any task. Highway mode isolates the upper structure for travelling at up to 25 mph (40 kph). Site mode limits the machine to 12 mph (20 kph) with all hydraulic services active. Creep mode has a speed limiter for the most precise jobs. A hitch with a 7,700lb (3.5T) towing capacity allows you to tow a trailer with your attachments to the work site (where local laws permit). Auto-idle as standard saves fuel while the machine is idling. This all makes the JCB Hydradig 110W first for getting to – and around – work.  

First For Serviceability: No matter your project, your productivity depends on your ability to perform daily equipment checks quickly and easily. That's why JCB Hydradig 110W was designed with ground-level access to all daily check points and the fuel filler, eliminating the need to climb onto the upper structure. 500-hour greasing on dig end, dozer and stabilizer grease points allow maximum uptime. The JCB Hydradig 110W is powered by an 109hp (81kW) JCB EcoMAX engine that requires no DPF, keeping servicing costs and downtime to a minimum. JCB's Livelink enables you to monitor fuel consumption, machine location and utilization of your investment. And with a class-leading SAE rating 22 percent better than its closest competitor, the JCB Hydradig 110W is first for easy maintenance.  

FIRST FOR MANEUVERABILITY: Four-wheel steer, two-wheel steer and crab steer as standard make operating easy in even the most confined urban sites, allowing you to work safely in tighter confines than ever before. A best-in-class turning circle of 13ft allows you work comfortably within the confines of a two-lane road, and a reverse steer option, allowing you to change the back of the machine to the front, means you can move along a single road lane without turning. Reduced front swing and tailswing of just 5 inches allows you to work closer to walls, while a Kingpost allows you to dig parallel without compromising stability. This increases versatility and productivity, making the JCB Hydradig 110W first for working in urban environments.  

First For Stability: On urban worksites, safety is priority number 1. The JCB Hydradig 110W delivers best-in-class over the side stability when digging, lifting or slinging, compared to conventional tailswing competitors…all with a tailswing of just 5 inches. Engine and double skinned tanks are mounted on the all-steel chassis to create a lower center of gravity. A 50/50 weight distribution between the axles also significantly reduces nod and pitch while moving around the jobsite or traveling between jobsites. Built for enhance operator confidence and productivity, JCB Hydradig is first for lifting and carrying materials around the site and stability on the road.

First For Visibility: In today's world, where space is at a premium, compact dimensions and all-round visibility are increasingly important. The JCB Hydradig 110W allows all-round visibility, with all four wheels visible from operator seat. The 109hp (81kW) T4F EcoMAX engine and other components are housed in the Hydradig 110W chassis, allowing the counterweight to be radically reduced and limiting tailswing just 5 inches. This allows the operator to view the dozer, trailer hitch and stabilizers from inside the cab without needing to slew the machine. With low-level glass and optional LED work lights, JCB Hydradig is first for easier and safer operating in tight, crowded worksites, day and night.
Specifications
Maximum Bucket Capacity :

0.4 yd3
0.31 m3

Maximum Engine Power :

109 hp
81 kW

Maximum Operating Weight :

25,258 lb
11,457 kg
Features

Features

First For Mobility: With a top speed of 25 mph (40 kph) from a T4F 109 hp (81 kW) EcoMAX engine and step-less transmission, the JCB Hydradig 110W, allows you to travel faster around and between sites, and in greater comfort…and eliminates the need to hire or purchase additional transport equipment. Three mobility modes allow the operator to set the JCB Hydradig 110W for any task. Highway mode isolates the upper structure for travelling at up to 25 mph (40 kph). Site mode limits the machine to 12 mph (20 kph) with all hydraulic services active. Creep mode has a speed limiter for the most precise jobs. A hitch with a 7,700lb (3.5T) towing capacity allows you to tow a trailer with your attachments to the work site (where local laws permit). Auto-idle as standard saves fuel while the machine is idling. This all makes the JCB Hydradig 110W first for getting to – and around – work.  

First For Serviceability: No matter your project, your productivity depends on your ability to perform daily equipment checks quickly and easily. That's why JCB Hydradig 110W was designed with ground-level access to all daily check points and the fuel filler, eliminating the need to climb onto the upper structure. 500-hour greasing on dig end, dozer and stabilizer grease points allow maximum uptime. The JCB Hydradig 110W is powered by an 109hp (81kW) JCB EcoMAX engine that requires no DPF, keeping servicing costs and downtime to a minimum. JCB's Livelink enables you to monitor fuel consumption, machine location and utilization of your investment. And with a class-leading SAE rating 22 percent better than its closest competitor, the JCB Hydradig 110W is first for easy maintenance.  

FIRST FOR MANEUVERABILITY: Four-wheel steer, two-wheel steer and crab steer as standard make operating easy in even the most confined urban sites, allowing you to work safely in tighter confines than ever before. A best-in-class turning circle of 13ft allows you work comfortably within the confines of a two-lane road, and a reverse steer option, allowing you to change the back of the machine to the front, means you can move along a single road lane without turning. Reduced front swing and tailswing of just 5 inches allows you to work closer to walls, while a Kingpost allows you to dig parallel without compromising stability. This increases versatility and productivity, making the JCB Hydradig 110W first for working in urban environments.  

First For Stability: On urban worksites, safety is priority number 1. The JCB Hydradig 110W delivers best-in-class over the side stability when digging, lifting or slinging, compared to conventional tailswing competitors…all with a tailswing of just 5 inches. Engine and double skinned tanks are mounted on the all-steel chassis to create a lower center of gravity. A 50/50 weight distribution between the axles also significantly reduces nod and pitch while moving around the jobsite or traveling between jobsites. Built for enhance operator confidence and productivity, JCB Hydradig is first for lifting and carrying materials around the site and stability on the road.

First For Visibility: In today's world, where space is at a premium, compact dimensions and all-round visibility are increasingly important. The JCB Hydradig 110W allows all-round visibility, with all four wheels visible from operator seat. The 109hp (81kW) T4F EcoMAX engine and other components are housed in the Hydradig 110W chassis, allowing the counterweight to be radically reduced and limiting tailswing just 5 inches. This allows the operator to view the dozer, trailer hitch and stabilizers from inside the cab without needing to slew the machine. With low-level glass and optional LED work lights, JCB Hydradig is first for easier and safer operating in tight, crowded worksites, day and night.

Specifications

Specifications

Maximum Bucket Capacity :

0.4 yd3
0.31 m3

Maximum Engine Power :

109 hp
81 kW

Maximum Operating Weight :

25,258 lb
11,457 kg
Other Large Excavators Models