504-13TC Telescopic Handler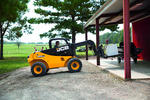 JCB

504-13TC Telescopic Handler
Telehandlers
The JCB 504-13 Loadall telescopic handler is a sub-compact telehandler powered by a 39 hp Perkins engine and offering a maximum lift capacity of 4,000 lb and a maximum lift height of 13 ft 3 in. The 504-13 is based on the popular JCB 520-40 telehandler, previously available in North America prior to changes in U.S. emissions regulations. With the change to a Perkins Tier IV final engine, it is now available for the NA market. The 504-13 is ideal for maintenance work, clean up in and around working areas, and material movement in tight spaces.

Features
Visibility & Security: The 504-13 Loadall telehandler features a low boom pivot point and slim outer boom for unmatched visibility to front and rear wheels on the right-hand side. Bystanders are further safeguarded by the standard-fit reversing alarm. Hose burst check valves (HBCVs) prevent the rams from collapse in the event of a hose failure. GPS tracking via JCB LiveLink telematics systems provides real-time location data, including geofencing alerts to let you know if your machine is being used beyond predefined boundaries.

All steel body work

39 hp (29 kW) hp JCB Perkins engine with no required aftertreatment

Permanent 4-wheel steer, 4-wheel drive

Comfort & Ease of Use: The JCB 504-13 telescopic handler has a large, spacious cab with a wide access door. The cab glass is tinted all round and the windshield and roof are laminated. JCB 504-13 controls are comfortable, precise and smooth thanks to single-lever electro servo controls with proportional auxiliaries. Telehandler operators can maneuver quickly and easily with directional shuttle changes possible via the shuttle lever on the steering column or the joystick-mounted shuttle switch.

Maximum lift height of 13 ft 3 in. (4.04 m)

Skid steer or compact tool carrier attachment coupler

Maximum lift capacity of 4,000 lb (1815 kg)

Hydrostatic transmission

Comfortable operator station

Productivity & Performance: For excellent traction and performance in difficult conditions, the JCB 504-13 Loadall telehandler is features 4-wheel drive as standard. A limited-slip differential is available for maximum traction on slippery surfaces by transferring drive from the spinning wheel to the stationary wheel. With a low height of 6 feet 6 inches and a narrow width of 5 feet 1 inch, this JCB Loadall telehandler is able to work in small operating environments, while its compact wheelbase and large steering lock angles ensure tight turning circles and superior maneuverability. The 504-13 is equipped with a 39 hp JCB Perkins engine requires no aftertreatment and produces 120 lb-ft of torque at 1800 RPM.
Specifications
null:

Maximum Engine Power:

39 hp
29 kW

Maximum Lift Capacity:

4,000 lb
2,000 kg

Maximum Lift Height:

13 ft 3 in
4.04 m
Features

Features

Visibility & Security: The 504-13 Loadall telehandler features a low boom pivot point and slim outer boom for unmatched visibility to front and rear wheels on the right-hand side. Bystanders are further safeguarded by the standard-fit reversing alarm. Hose burst check valves (HBCVs) prevent the rams from collapse in the event of a hose failure. GPS tracking via JCB LiveLink telematics systems provides real-time location data, including geofencing alerts to let you know if your machine is being used beyond predefined boundaries.

All steel body work

39 hp (29 kW) hp JCB Perkins engine with no required aftertreatment

Permanent 4-wheel steer, 4-wheel drive

Comfort & Ease of Use: The JCB 504-13 telescopic handler has a large, spacious cab with a wide access door. The cab glass is tinted all round and the windshield and roof are laminated. JCB 504-13 controls are comfortable, precise and smooth thanks to single-lever electro servo controls with proportional auxiliaries. Telehandler operators can maneuver quickly and easily with directional shuttle changes possible via the shuttle lever on the steering column or the joystick-mounted shuttle switch.

Maximum lift height of 13 ft 3 in. (4.04 m)

Skid steer or compact tool carrier attachment coupler

Maximum lift capacity of 4,000 lb (1815 kg)

Hydrostatic transmission

Comfortable operator station

Productivity & Performance: For excellent traction and performance in difficult conditions, the JCB 504-13 Loadall telehandler is features 4-wheel drive as standard. A limited-slip differential is available for maximum traction on slippery surfaces by transferring drive from the spinning wheel to the stationary wheel. With a low height of 6 feet 6 inches and a narrow width of 5 feet 1 inch, this JCB Loadall telehandler is able to work in small operating environments, while its compact wheelbase and large steering lock angles ensure tight turning circles and superior maneuverability. The 504-13 is equipped with a 39 hp JCB Perkins engine requires no aftertreatment and produces 120 lb-ft of torque at 1800 RPM.

Specifications

Specifications

null:

Maximum Engine Power:

39 hp
29 kW

Maximum Lift Capacity:

4,000 lb
2,000 kg

Maximum Lift Height:

13 ft 3 in
4.04 m
Other Telehandlers Models