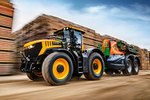 JCB

8330
Agricultural Tractors
The JCB 8330 is the flagship of the Fastrac range, boasting a rated power of 335hp as well as unrivalled levels of comfort, speed and safety .

Features
Maximum travel speed of 43mph (70kph)

PRODUCTIVITY: Faster road and in-field speeds enable you to get more done every single day.   Unique all-round suspension means operators can work quicker and longer on uneven field surfaces. Unrivalled 50:50 weight distribution and Activ Traction, perfect for heavy draft applications. The best powertrain and suspension system combine to deliver the ultimate in power, torque and traction.

COMFORT: Work in total comfort in the field or road with all-round suspension and mid-mounted cab.  Command Plus cab with best-in-class comfort, visibility and ergonomics is the largest on the market. Unrivalled 70 degree seat rotation significantly reduces driver fatigue. Hydrostatic Dual Steering is lighter and highly responsive making driving effortless.  

Exclusive Hydrostatic Dual Steering

VERSATILITY: From hauling at 43mph (70kph) to heavy draft work at 4mph (7kph), no tractor is more versatile. Purpose-designed chassis gives multiple implement mounting points. Powerful rear hitch combined with optimum linkage geometry lifts a genuine 22,046lbs (10,000kg) with ease. Wherever you are in the world, whatever your application, the Fastrac delivers the ultimate in versatility.

Unique external disc brakes on all four wheels

Unique all-round suspension

Best powertrain and suspension combination

Latest Command Plus cab design for ultimate operator comfort

SAFETY: Unique four-wheel disc brakes offer more consistent stopping than any conventional tractor. Truck standard air braking and ABS provide exceptional tractor and trailer stopping power. Hydrostatic Dual Steering meets the stringent safety standards required for high speed travel. Large volume of glass provides superior all-round visibility.

SPEED: Unique suspension gives superior handling and stability enabling 43mph (70kph) road speeds. External disc brakes and twin calipers provide unrivaled stopping power. Rapid Steer option reduces lock to lock turn by 50% for faster headland turns. GPS capability makes for high accuracy spraying and spreading up to 24mph (40kph).  
Specifications
| | |
| --- | --- |
| Maximum Engine Power : | 348hp |
| Maximum Torque : | 1440lbf |
| Maximum Travel Speed: | 43mph 70kph |
Features

Features

Maximum travel speed of 43mph (70kph)

PRODUCTIVITY: Faster road and in-field speeds enable you to get more done every single day.   Unique all-round suspension means operators can work quicker and longer on uneven field surfaces. Unrivalled 50:50 weight distribution and Activ Traction, perfect for heavy draft applications. The best powertrain and suspension system combine to deliver the ultimate in power, torque and traction.

COMFORT: Work in total comfort in the field or road with all-round suspension and mid-mounted cab.  Command Plus cab with best-in-class comfort, visibility and ergonomics is the largest on the market. Unrivalled 70 degree seat rotation significantly reduces driver fatigue. Hydrostatic Dual Steering is lighter and highly responsive making driving effortless.  

Exclusive Hydrostatic Dual Steering

VERSATILITY: From hauling at 43mph (70kph) to heavy draft work at 4mph (7kph), no tractor is more versatile. Purpose-designed chassis gives multiple implement mounting points. Powerful rear hitch combined with optimum linkage geometry lifts a genuine 22,046lbs (10,000kg) with ease. Wherever you are in the world, whatever your application, the Fastrac delivers the ultimate in versatility.

Unique external disc brakes on all four wheels

Unique all-round suspension

Best powertrain and suspension combination

Latest Command Plus cab design for ultimate operator comfort

SAFETY: Unique four-wheel disc brakes offer more consistent stopping than any conventional tractor. Truck standard air braking and ABS provide exceptional tractor and trailer stopping power. Hydrostatic Dual Steering meets the stringent safety standards required for high speed travel. Large volume of glass provides superior all-round visibility.

SPEED: Unique suspension gives superior handling and stability enabling 43mph (70kph) road speeds. External disc brakes and twin calipers provide unrivaled stopping power. Rapid Steer option reduces lock to lock turn by 50% for faster headland turns. GPS capability makes for high accuracy spraying and spreading up to 24mph (40kph).  

Specifications

Specifications

| | |
| --- | --- |
| Maximum Engine Power : | 348hp |
| Maximum Torque : | 1440lbf |
| Maximum Travel Speed: | 43mph 70kph |