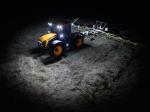 JCB

4220
Agricultural Tractors
With a rated 217hp, the JCB 4220 is the most powerful new 4000 series Fastrac. It boasts more productivity than ever, a new transmission, a revolutionary CommandPlus cab, and much more.

Features
POWERFUL CONTROL: A new AGCO Power 6.6-liter six-cylinder engine provides the JCB Fastrac 4220 with proven fuel efficiency, a maximum 220hp (162kW) of power and 950Nm/700lbf of torque.  The whole driveline offers plenty of grunt at low revs, maximizing performance and efficiency.New CVT transmission ensures optimum use of power and torque, with seamless acceleration and power delivery, ideal speeds for every situation, and ultra-fine speed control for top-quality work with all implements.Tailor your transmission and engine control strategy using the Fastrac's touch screen controller – prioritize power and productivity, fuel economy, fixed engine/PTO speed or fuel-efficient road travel.Active Traction manipulates your tractor's torque output to keep the tires gripping for maximum pulling power with minimum wear.The SCR emissions system used on these tractors is fuel-efficient technology that's been tried and tested on other models in the JCB Fastrac range.JCB Fastracs are fast on the road and in the field at low engine revs: cruise at 37 mph at 1,600rpm or drive for maximum fuel economy at 31 mph with just 1,400rpm on the clock (tire dependent).

MULTI-TASKING VERSATILITY: The JCB Fastrac 4220 is a real Swiss Army knife of tractors in a small but powerful package. Make use of five implement positions, including the chassis for a front loader, to do more operations in one go.Maximum Permissible Vehicle Weight is up to 30,000 lb (depending on territory/configuration) with the ability to mount up to 8,800 lb on the rear deck. So these tractors can carry loads more, with bigger implements and fewer refills.A new flow-on-demand closed center hydraulics system ensures there's plenty of oil for every situation. An axial piston pump provides up to 39 gallons per minute for auxiliary services, while a separate gear pump ensures a dedicated supply to the steering system.There's a new three-point linkage system on the Fastrac 4220, featuring up to a 17,600 lb lift capacity with new geometry ensuring plenty of muscle and lift for large implements. Front linkage capacity is now boosted to 7,716 lb.Extend your productive day with the optional LED work light package, comprising up to 18 lamps to provide near-daylight visibility even at night. LEDs also minimize power consumption for maximum light output, and there's even an auto switch-off feature.Another way of increasing the working envelope is to opt for fully-integrated high definition GPS guidance. This will boost precision, output, and operator energy levels, as well as allowing work to continue at night or in low-visibility conditions.

ALL-NEW COMMANDPLUS CAB: Space, comfort, practicality – three words that sum up the JCB Fastrac 4220's all-new Command Plus cab. There's 10% more room than in the leading competitor's cab, and a full-size instruction seat means both driver and instructor enjoy safety and comfort. Get the perfect driving position with our new supportive suspension seat. It's fully adjustable (likewise the steering column) and can now swivel 50° right and 20° left; so checking rear-mounted and trailed equipment needn't be a pain in the neck. There are many innovative little flourishes on these tractors, like optional MP3 player compatibility and Bluetooth hands-free communications. The optional cooler is ideal for long days, and the instruction seat can even fold flat to create a picnic table. With deep door glass and side windows, as well as wide lower windshield glazing, you enjoy great forward and over-the-shoulder visibility on a Fastrac for faster, safer, more comfortable working. There's also excellent sun protection. Climate control keeps the operator comfortable in all weather conditions and quickly clears the windows of condensation. In addition, opening rear quarter windows provide natural ventilation while an optional fixed roof window allows more light and improves visibility for loader work. The JCB Fastrac 4220's slim line instrument panel provides all the information and alerts you need without impeding forward visibility.

More productive, comfortable and safe than conventional tractors

CONTROL AND MANEUVERABILITY: A color touch-screen terminal is standard equipment on a JCB Fastrac 4000 series, handling key tractor functions in the most intuitive and clearest way possible.You can easily program the Headland Turn Assist (HTA) feature using the touch screen – set up and store control sequences for five different implements (with up to 15 steps in each) for simpler headland turns.Our new RapidSteer option reduces arm twirling for headland turns and loader work to just two turns lock-to-lock.The JCB Fastrac 4220's new compact chassis is narrower where it counts, making turns tighter than ever. Tire sizes now include 600/70R30 and 540/65R34 to complement the tractor's 50:50 weight distribution.Opt for JCB's four-wheel-steering option and enjoy the choice of five steer modes, potentially reducing your tractor's turning radius to less than 16-6 ft-in (tire dependent). 2WS, 4WS and a fully user-programmable setting are selected via a three-position switch.

New CVT transmission with seamless acceleration and power delivery

6.6-litre six-cylinder engine with max 235hp (175kW) and 950Nm

UNIQUE SUSPENSION AND BRAKING: The JCB Fastrac 4220's unique self-leveling rear axle suspension is now matched by a new hydraulic front system that maintains correct ride height wherever the implement is mounted. Mounted implements are also cushioned from shocks and jolts by this system.Active suspension quickly responds to coupling a linkage-mounted implement or a de-mount sprayer/spreader, restoring ride height, wheel travel and stability with a stiffer spring rate to support the extra weight.As the spray tank or seed hopper empties, or cultivator is lowered to the ground, the suspension on the Fastrac 4160 compensates to keep the tractor, driver and implement level.Optional advanced double-acting suspension features larger components with adaptive pressure and damping control; stability, control, ride comfort and handling - setting a new standard for tractors. You can also lower your Fastrac beneath a demount sprayer, spreader or bulk hopper.A smooth-riding chassis provides a stable platform for spraying and spreading with consistent working heights and high operating speeds. Unique side-to-side active leveling promotes maximum stability, driver confidence and productivity, particularly in difficult terrain.Because JCB Fastracs can legally travel fast on the road, they boast high performance disc brakes and ABS all-around for consistent, fade-free stopping power.

New CommandPlus cab for unparalleled comfort and ergonomics

All-round self-levelling suspension provides unrivalled comfort and performance

Rear deck increases carrying capacity and prolongs fill-ups

COST-EFFICIENT PRODUCTIVITY: The JCB Fastrac 4220 is perfectly suited to a wide variety of applications in grassland, arable, haulage and livestock operations . Look no further for the best return on investment.Compare Fastrac with conventional tractors and you'll find that JCB tractors offer faster in-field speeds, greater load carrying capacity, quicker headland turns and faster transfer speeds, potentially saving several work days a year.Turning at the headland is much faster with four-wheel steering and a minimum turning radius below 10 meters.Carry an extra 3.0 yd³ of seed on the rear deck to reduce drill refilling stops to once per day. Put the drill hopper up front for ultimate capacity, 50:50 weight distribution, and scope for using wider power harrow-seed drill combinations.Use the 4-ton capacity rear deck to carry 5,500 lbs of fertilizer for improved weight distribution. Combined with faster return-to-base fill-ups, you could achieve an extra hour's work daily.You can gain two-thirds more spray tank capacity with these tractors by ditching the 396 gal linkage sprayer for a 660 gal deck mounted. Or go large with a front-linkage tank for up to 1,060 gal capacity.
Specifications
| | |
| --- | --- |
| Maximum Engine Power: | 220hp 162kW |
| Maximum Torque: | 37mph 60kph |
| Maximum Travel Speed: | 700lbf 950Nm |
Features

Features

POWERFUL CONTROL: A new AGCO Power 6.6-liter six-cylinder engine provides the JCB Fastrac 4220 with proven fuel efficiency, a maximum 220hp (162kW) of power and 950Nm/700lbf of torque.  The whole driveline offers plenty of grunt at low revs, maximizing performance and efficiency.New CVT transmission ensures optimum use of power and torque, with seamless acceleration and power delivery, ideal speeds for every situation, and ultra-fine speed control for top-quality work with all implements.Tailor your transmission and engine control strategy using the Fastrac's touch screen controller – prioritize power and productivity, fuel economy, fixed engine/PTO speed or fuel-efficient road travel.Active Traction manipulates your tractor's torque output to keep the tires gripping for maximum pulling power with minimum wear.The SCR emissions system used on these tractors is fuel-efficient technology that's been tried and tested on other models in the JCB Fastrac range.JCB Fastracs are fast on the road and in the field at low engine revs: cruise at 37 mph at 1,600rpm or drive for maximum fuel economy at 31 mph with just 1,400rpm on the clock (tire dependent).

MULTI-TASKING VERSATILITY: The JCB Fastrac 4220 is a real Swiss Army knife of tractors in a small but powerful package. Make use of five implement positions, including the chassis for a front loader, to do more operations in one go.Maximum Permissible Vehicle Weight is up to 30,000 lb (depending on territory/configuration) with the ability to mount up to 8,800 lb on the rear deck. So these tractors can carry loads more, with bigger implements and fewer refills.A new flow-on-demand closed center hydraulics system ensures there's plenty of oil for every situation. An axial piston pump provides up to 39 gallons per minute for auxiliary services, while a separate gear pump ensures a dedicated supply to the steering system.There's a new three-point linkage system on the Fastrac 4220, featuring up to a 17,600 lb lift capacity with new geometry ensuring plenty of muscle and lift for large implements. Front linkage capacity is now boosted to 7,716 lb.Extend your productive day with the optional LED work light package, comprising up to 18 lamps to provide near-daylight visibility even at night. LEDs also minimize power consumption for maximum light output, and there's even an auto switch-off feature.Another way of increasing the working envelope is to opt for fully-integrated high definition GPS guidance. This will boost precision, output, and operator energy levels, as well as allowing work to continue at night or in low-visibility conditions.

ALL-NEW COMMANDPLUS CAB: Space, comfort, practicality – three words that sum up the JCB Fastrac 4220's all-new Command Plus cab. There's 10% more room than in the leading competitor's cab, and a full-size instruction seat means both driver and instructor enjoy safety and comfort. Get the perfect driving position with our new supportive suspension seat. It's fully adjustable (likewise the steering column) and can now swivel 50° right and 20° left; so checking rear-mounted and trailed equipment needn't be a pain in the neck. There are many innovative little flourishes on these tractors, like optional MP3 player compatibility and Bluetooth hands-free communications. The optional cooler is ideal for long days, and the instruction seat can even fold flat to create a picnic table. With deep door glass and side windows, as well as wide lower windshield glazing, you enjoy great forward and over-the-shoulder visibility on a Fastrac for faster, safer, more comfortable working. There's also excellent sun protection. Climate control keeps the operator comfortable in all weather conditions and quickly clears the windows of condensation. In addition, opening rear quarter windows provide natural ventilation while an optional fixed roof window allows more light and improves visibility for loader work. The JCB Fastrac 4220's slim line instrument panel provides all the information and alerts you need without impeding forward visibility.

More productive, comfortable and safe than conventional tractors

CONTROL AND MANEUVERABILITY: A color touch-screen terminal is standard equipment on a JCB Fastrac 4000 series, handling key tractor functions in the most intuitive and clearest way possible.You can easily program the Headland Turn Assist (HTA) feature using the touch screen – set up and store control sequences for five different implements (with up to 15 steps in each) for simpler headland turns.Our new RapidSteer option reduces arm twirling for headland turns and loader work to just two turns lock-to-lock.The JCB Fastrac 4220's new compact chassis is narrower where it counts, making turns tighter than ever. Tire sizes now include 600/70R30 and 540/65R34 to complement the tractor's 50:50 weight distribution.Opt for JCB's four-wheel-steering option and enjoy the choice of five steer modes, potentially reducing your tractor's turning radius to less than 16-6 ft-in (tire dependent). 2WS, 4WS and a fully user-programmable setting are selected via a three-position switch.

New CVT transmission with seamless acceleration and power delivery

6.6-litre six-cylinder engine with max 235hp (175kW) and 950Nm

UNIQUE SUSPENSION AND BRAKING: The JCB Fastrac 4220's unique self-leveling rear axle suspension is now matched by a new hydraulic front system that maintains correct ride height wherever the implement is mounted. Mounted implements are also cushioned from shocks and jolts by this system.Active suspension quickly responds to coupling a linkage-mounted implement or a de-mount sprayer/spreader, restoring ride height, wheel travel and stability with a stiffer spring rate to support the extra weight.As the spray tank or seed hopper empties, or cultivator is lowered to the ground, the suspension on the Fastrac 4160 compensates to keep the tractor, driver and implement level.Optional advanced double-acting suspension features larger components with adaptive pressure and damping control; stability, control, ride comfort and handling - setting a new standard for tractors. You can also lower your Fastrac beneath a demount sprayer, spreader or bulk hopper.A smooth-riding chassis provides a stable platform for spraying and spreading with consistent working heights and high operating speeds. Unique side-to-side active leveling promotes maximum stability, driver confidence and productivity, particularly in difficult terrain.Because JCB Fastracs can legally travel fast on the road, they boast high performance disc brakes and ABS all-around for consistent, fade-free stopping power.

New CommandPlus cab for unparalleled comfort and ergonomics

All-round self-levelling suspension provides unrivalled comfort and performance

Rear deck increases carrying capacity and prolongs fill-ups

COST-EFFICIENT PRODUCTIVITY: The JCB Fastrac 4220 is perfectly suited to a wide variety of applications in grassland, arable, haulage and livestock operations . Look no further for the best return on investment.Compare Fastrac with conventional tractors and you'll find that JCB tractors offer faster in-field speeds, greater load carrying capacity, quicker headland turns and faster transfer speeds, potentially saving several work days a year.Turning at the headland is much faster with four-wheel steering and a minimum turning radius below 10 meters.Carry an extra 3.0 yd³ of seed on the rear deck to reduce drill refilling stops to once per day. Put the drill hopper up front for ultimate capacity, 50:50 weight distribution, and scope for using wider power harrow-seed drill combinations.Use the 4-ton capacity rear deck to carry 5,500 lbs of fertilizer for improved weight distribution. Combined with faster return-to-base fill-ups, you could achieve an extra hour's work daily.You can gain two-thirds more spray tank capacity with these tractors by ditching the 396 gal linkage sprayer for a 660 gal deck mounted. Or go large with a front-linkage tank for up to 1,060 gal capacity.

Specifications

Specifications

| | |
| --- | --- |
| Maximum Engine Power: | 220hp 162kW |
| Maximum Torque: | 37mph 60kph |
| Maximum Travel Speed: | 700lbf 950Nm |