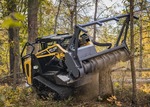 ASV

RT-135 FORESTRY
ASV Compact Track Loaders
BIGGER. STRONGER. TOUGHER.
The RT-135 Forestry make impossible jobs seems ordinary. Comfortable and easy to operate, the MAX-Series premium operator experience is front and center to getting big forestry jobs done.
Features
A Cummins 3.8-liter, turbocharged diesel engine powers the RT-135 Forestry. This 132-horsepower engine produces 360 foot-pounds of torque which is transferred to the terrain through direct-drive hydraulic motors that moves through anything in its path.

The MAX-Series RT-135 Forestry features a rated operating capacity of 4,150 pounds and a tipping load of 11,858 pounds. It offers ASV's patented Posi-Track® rubber-track suspension and includes both suspended wheels and axles, allowing it to achieve faster speeds. This machine offers a fully-flexible 20" tracks and suspended wheels that conform to the ground and a special guarding package. Combine that with 15 inches of ground clearance and you get a unit that works in more places, on more days, more comfortably than competitive machines.

The RT-135 Forestry gives operators easy access to the Cummins engine through a three-panel hood and tilting cooler arrangement. This machine offers a hydraulic quick attach and a design that simplifies routine inspections of filters, oil and normal service items. The rearward tilting cab provides easy accessibility when further service is required.

The RT-135 Forestry features our premium MAX-Series cab, designed with a spacious interior—including additional legroom, shoulder room and foot room—and improved ergonomics from corner to corner in order to reduce fatigue during long days and long jobs. An upgraded HVAC system allows for ideal circulation and better defrosting capabilities.
Specifications
| | |
| --- | --- |
| Engine Power: | 132 hp |
| Ground Pressure: | 4.6 psi |
| Operating Weight: | 12990 lbs |
| Rated Operating Capacity: | 4150 lbs |
Features

Features

A Cummins 3.8-liter, turbocharged diesel engine powers the RT-135 Forestry. This 132-horsepower engine produces 360 foot-pounds of torque which is transferred to the terrain through direct-drive hydraulic motors that moves through anything in its path.

The MAX-Series RT-135 Forestry features a rated operating capacity of 4,150 pounds and a tipping load of 11,858 pounds. It offers ASV's patented Posi-Track® rubber-track suspension and includes both suspended wheels and axles, allowing it to achieve faster speeds. This machine offers a fully-flexible 20" tracks and suspended wheels that conform to the ground and a special guarding package. Combine that with 15 inches of ground clearance and you get a unit that works in more places, on more days, more comfortably than competitive machines.

The RT-135 Forestry gives operators easy access to the Cummins engine through a three-panel hood and tilting cooler arrangement. This machine offers a hydraulic quick attach and a design that simplifies routine inspections of filters, oil and normal service items. The rearward tilting cab provides easy accessibility when further service is required.

The RT-135 Forestry features our premium MAX-Series cab, designed with a spacious interior—including additional legroom, shoulder room and foot room—and improved ergonomics from corner to corner in order to reduce fatigue during long days and long jobs. An upgraded HVAC system allows for ideal circulation and better defrosting capabilities.

Specifications

Specifications

| | |
| --- | --- |
| Engine Power: | 132 hp |
| Ground Pressure: | 4.6 psi |
| Operating Weight: | 12990 lbs |
| Rated Operating Capacity: | 4150 lbs |