3TS-8W Teleskid Skid Steer Loader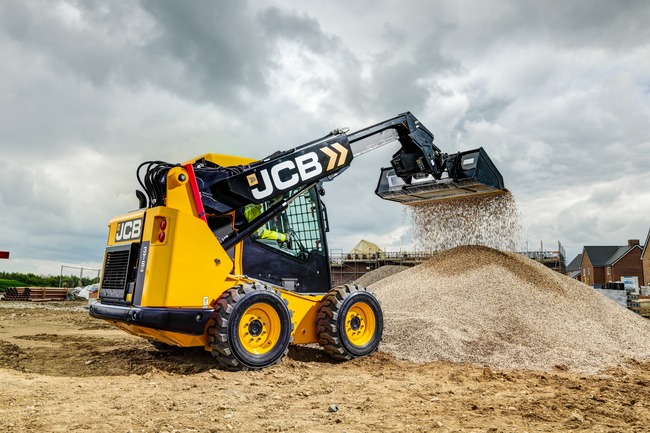 JCB

3TS-8W Teleskid Skid Steer Loader
Skid Steers
The JCB Teleskid 3TS-8W is the world's only skid steer with a telescopic boom. Lift higher, reach further and dig deeper than ever before.

Features
GREATER PRODUCTIVITY: Combine the versatility of a skid steer or compact track loader with the telescopic JCB Powerboom™ and SAE/ISO standard quick hitch, and you have the combination for unbeatable productivity and efficiency. Load and unload both sides of a standard, 8-foot trailer from just one side. Load a high-sided trailer or stack items without building a ramp. Lift and place over a fence or obstacle without removing it or driving around it. A proven JCB EcoMAX engine delivers increased performance at low engine speed for improved cycle times, with no requirement for diesel exhaust fluid (DEF) or a costly, productivity-sapping diesel particulate filter (DPF). Teleskid offers greater tractive force and pushing power than a small telehandler or forklift, and breakout force that rivals many bigger machines. With an SAE operating weight of 12,615 lb (5,722 kg) for the compact track loader and 9,859 lb (4,472 kg) for the skid steer loader, the JCB Teleskid can easily be transported on a trailer. NOW YOU CAN!

Lift height of 13 feet 3 inches (4.03 m) to easily dump into the middle of a high-sided truck or stack pallets and bales higher

THE WORLD'S SAFEST SKID STEER: The JCB Teleskid features the same unique, wide-opening side entry door for which JCB skid steer and compact track loaders are known. Not only is the JCB door up to twice the size of the competition, making it more comfortable to use, but it makes JCB the safest skid steer on the market. No longer are operators required to climb over attachments or under an unsupported boom to enter through the front, as is necessary with competing machines. The JCB Teleskid telescopic Powerboom™ enables an exceptional 270 degrees of vision from the operator position, which is 60 percent better than conventional twin arm design machines, providing greater safety for the operator and others on the job site. Visibility is further enhanced by the standard-fit electronic quick hitch with a fully enclosed tilt cylinder, which limits the build-up of material that might obstruct the operators view. For added safety options, a dealer-fit flashing beacon and front screen guard are available. NOW YOU CAN!

LIMITLESS VERSATILITY: The JCB Teleskid is the only skid steer or compact tracked loader with a lift height of 13 feet 3 inches, a forward reach of 8 feet and, for the first time in a skid steer or compact track loader, the ability to dig 3 feet below the ground. Additionally, Teleskid combines the advantages of vertical lift – for greater lift capacity and lift height – and radial lift – for improved excavating and grading – in a single machine. The 3TS-8T compact track loader model has a rated operating capacity of 3,695 lb (1,676 kg) with the boom retracted and 1,614 lb (732 kg) with the boom fully extended. The 3TS-8W wheeled skid steer loader model rates at 3,208 lb (1,455 kg) and 1,347 lb (611 kg), respectively. Teleskid's bucket-positioning leveling system is active when the boom is raised or lowered, making it easier to keep gravel, mulch, dirt and other materials in the bucket. NOW YOU CAN!

Climate-controlled cab is standard; optional canopy available

33 percent larger cab than comparable conventional skid steers

3,208 lb (1,455 kg) rated operating capacity with the boom retracted; 1,347 lb (611 kg) when fully extended

Dig depth of 3 feet (1 m) below grade to operate below the level of the chassis

270-degree field of vision

TOTAL COMFORT AND CONTROL: Whether you choose the standard-fit, climate-controlled cab or the available canopy option, the operator environment in a JCB Teleskid cab is 33 percent larger than the industry average. And with the standard-fit fully adjustable, heated, air-suspension seat, Teleskid is in a class of its own for operator comfort. Electric over hydraulic controls, optional switchable ISO/H-pattern controls, a 7-way multi-function joystick, and JCB's myCHOICE software to choose the level of joystick responsiveness, all work together to deliver unrivaled control. NOW YOU CAN!

Forward reach of 8 feet (2.25 m) to place loads through or over obstacles

UNRIVALED STRENGTH : With a proven, high-strength steel boom mounted on a fully welded, single-piece chassis and reliable components, the JCB Teleskid is constructed to maximize strength, durability and reliability. JCB experience in manufacturing telescopic booms exceeds 250,000 machines in service. The telescopic Powerboom™ on the Teleskid features a pressed, U-shape profile for fewer joints and stress points, and centralized lift and extension rams to distribute load stresses evenly. NOW YOU CAN!
Specifications
Gross Engine Power:

74 hp

55 kW

Operating Capacity:

3,208 lb

1,455 kg

Operating Weight:

9,859 lb

4,472 kg
Features

Features

GREATER PRODUCTIVITY: Combine the versatility of a skid steer or compact track loader with the telescopic JCB Powerboom™ and SAE/ISO standard quick hitch, and you have the combination for unbeatable productivity and efficiency. Load and unload both sides of a standard, 8-foot trailer from just one side. Load a high-sided trailer or stack items without building a ramp. Lift and place over a fence or obstacle without removing it or driving around it. A proven JCB EcoMAX engine delivers increased performance at low engine speed for improved cycle times, with no requirement for diesel exhaust fluid (DEF) or a costly, productivity-sapping diesel particulate filter (DPF). Teleskid offers greater tractive force and pushing power than a small telehandler or forklift, and breakout force that rivals many bigger machines. With an SAE operating weight of 12,615 lb (5,722 kg) for the compact track loader and 9,859 lb (4,472 kg) for the skid steer loader, the JCB Teleskid can easily be transported on a trailer. NOW YOU CAN!

Lift height of 13 feet 3 inches (4.03 m) to easily dump into the middle of a high-sided truck or stack pallets and bales higher

THE WORLD'S SAFEST SKID STEER: The JCB Teleskid features the same unique, wide-opening side entry door for which JCB skid steer and compact track loaders are known. Not only is the JCB door up to twice the size of the competition, making it more comfortable to use, but it makes JCB the safest skid steer on the market. No longer are operators required to climb over attachments or under an unsupported boom to enter through the front, as is necessary with competing machines. The JCB Teleskid telescopic Powerboom™ enables an exceptional 270 degrees of vision from the operator position, which is 60 percent better than conventional twin arm design machines, providing greater safety for the operator and others on the job site. Visibility is further enhanced by the standard-fit electronic quick hitch with a fully enclosed tilt cylinder, which limits the build-up of material that might obstruct the operators view. For added safety options, a dealer-fit flashing beacon and front screen guard are available. NOW YOU CAN!

LIMITLESS VERSATILITY: The JCB Teleskid is the only skid steer or compact tracked loader with a lift height of 13 feet 3 inches, a forward reach of 8 feet and, for the first time in a skid steer or compact track loader, the ability to dig 3 feet below the ground. Additionally, Teleskid combines the advantages of vertical lift – for greater lift capacity and lift height – and radial lift – for improved excavating and grading – in a single machine. The 3TS-8T compact track loader model has a rated operating capacity of 3,695 lb (1,676 kg) with the boom retracted and 1,614 lb (732 kg) with the boom fully extended. The 3TS-8W wheeled skid steer loader model rates at 3,208 lb (1,455 kg) and 1,347 lb (611 kg), respectively. Teleskid's bucket-positioning leveling system is active when the boom is raised or lowered, making it easier to keep gravel, mulch, dirt and other materials in the bucket. NOW YOU CAN!

Climate-controlled cab is standard; optional canopy available

33 percent larger cab than comparable conventional skid steers

3,208 lb (1,455 kg) rated operating capacity with the boom retracted; 1,347 lb (611 kg) when fully extended

Dig depth of 3 feet (1 m) below grade to operate below the level of the chassis

270-degree field of vision

TOTAL COMFORT AND CONTROL: Whether you choose the standard-fit, climate-controlled cab or the available canopy option, the operator environment in a JCB Teleskid cab is 33 percent larger than the industry average. And with the standard-fit fully adjustable, heated, air-suspension seat, Teleskid is in a class of its own for operator comfort. Electric over hydraulic controls, optional switchable ISO/H-pattern controls, a 7-way multi-function joystick, and JCB's myCHOICE software to choose the level of joystick responsiveness, all work together to deliver unrivaled control. NOW YOU CAN!

Forward reach of 8 feet (2.25 m) to place loads through or over obstacles

UNRIVALED STRENGTH : With a proven, high-strength steel boom mounted on a fully welded, single-piece chassis and reliable components, the JCB Teleskid is constructed to maximize strength, durability and reliability. JCB experience in manufacturing telescopic booms exceeds 250,000 machines in service. The telescopic Powerboom™ on the Teleskid features a pressed, U-shape profile for fewer joints and stress points, and centralized lift and extension rams to distribute load stresses evenly. NOW YOU CAN!

Specifications

Specifications

Gross Engine Power:

74 hp

55 kW

Operating Capacity:

3,208 lb

1,455 kg

Operating Weight:

9,859 lb

4,472 kg