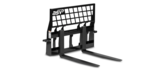 ASV

Attachments
ASV Attachments
Quality ASV attachments for every job.
Features
PALLET FORKS: Pallet forks are highly versatile attachments that help you easily transport hay bales, trailers, and pallets.

GRAPPLES: Grapples make quick work of large jobs. They help you rake, dig, move rocks, trees, brush, scrap, and remove waste easily.

BUCKETS: Our wide selection of buckets make quick work of your next task, and there's one available for any job that's in front of you.

MOWERS: Brush Mowers cut, clear, and mulch unwanted brush, thicket, grass, and saplings. They're ideal for clearing trails, ditches, construction property sites and overgrown areas.

HITCH PLATES: Hitches provide a simple and effective way to direct and guide trailered equipment into tight quarters.
Links
Grapples
Grapple Rake
The grapple rake is designed with Grade 100 steel teeth, making it nearly three times stronger than regular steel.
Greaseable hinge points ensure long life

Optimal spacing between teeth allows unwanted debris to fall through

Large, curved teeth provide optimal material grasping and raking
Grapple Bucket
This heavy-duty implement moves difficult to handle material like scrap, waste, and rocks with ease.
Independent grapples grab uneven loads

Gusseted tines ensure strength and longevity

Two heavy-duty cylinders
Pallet Forks
Our heavy-duty pallet forks couple easily and make moving, maintaining, and organization easy.
Adjustable tines

Heavy duty frame

High visibility brick guard
Buckets
Standard Bucket
ASV buckets come in a variety of applications, and attach quickly and easily to your machine.
Standard width buckets

Replaceable bolt-on cutting edge

Tooth bar compatible
Tooth Bucket
All tooth buckets feature replaceable Series 23 cast teeth with a cast shank welded directly to the bucket edge.
Standard width bucket

Welded shank

Replaceable cutting teeth
Light Material Bucket
Featuring more capacity than a standard bucket, the light material bucket is ideal for snow, wood shavings, sawdust, pellets, mulch, feeds, fertilizers, bedding, and other applications.
Replaceable cutting edge

Vertical bracing for increased rigidity

Windows for increased operator visibility (72"+ models)
4-In-1 Multi-Purpose Bucket
With multiple functions in one attachment you can save precious time and money dozing, clamming, leveling, and bottom dumping.
Guarded two-cylinder design

NitroSteel™ cylinder rods and Teflon™ coated bushings on all pivots

Replaceable bolt-on cutting edge
Mowers
Brush Mower
Heavy duty gearbox and skid rails to glide across ground

Pressure relief system for equipment protection

Unique automatic float system (66" and 72" only)

6" roller contacts ground for smooth operation (66" and 72" only)
Hitch Plates
Receiver Plate/Ball Hitch
Receiver hitch plate allows you to conveniently maneuver equipment, especially in tight spaces, without additional manpower.
Standard 2" receiver

Safety step

12,000 gross trailering capability

2,000 lb. maximum tongue weight
Features

Features

PALLET FORKS: Pallet forks are highly versatile attachments that help you easily transport hay bales, trailers, and pallets.

GRAPPLES: Grapples make quick work of large jobs. They help you rake, dig, move rocks, trees, brush, scrap, and remove waste easily.

BUCKETS: Our wide selection of buckets make quick work of your next task, and there's one available for any job that's in front of you.

MOWERS: Brush Mowers cut, clear, and mulch unwanted brush, thicket, grass, and saplings. They're ideal for clearing trails, ditches, construction property sites and overgrown areas.

HITCH PLATES: Hitches provide a simple and effective way to direct and guide trailered equipment into tight quarters.

Details

Grapples

Grapple Rake

The grapple rake is designed with Grade 100 steel teeth, making it nearly three times stronger than regular steel.

Greaseable hinge points ensure long life

Optimal spacing between teeth allows unwanted debris to fall through

Large, curved teeth provide optimal material grasping and raking

Grapple Bucket

This heavy-duty implement moves difficult to handle material like scrap, waste, and rocks with ease.

Independent grapples grab uneven loads

Gusseted tines ensure strength and longevity

Two heavy-duty cylinders

Pallet Forks

Our heavy-duty pallet forks couple easily and make moving, maintaining, and organization easy.

Adjustable tines

Heavy duty frame

High visibility brick guard

Buckets

Standard Bucket

ASV buckets come in a variety of applications, and attach quickly and easily to your machine.

Standard width buckets

Replaceable bolt-on cutting edge

Tooth bar compatible

Tooth Bucket

All tooth buckets feature replaceable Series 23 cast teeth with a cast shank welded directly to the bucket edge.

Standard width bucket

Welded shank

Replaceable cutting teeth

Light Material Bucket

Featuring more capacity than a standard bucket, the light material bucket is ideal for snow, wood shavings, sawdust, pellets, mulch, feeds, fertilizers, bedding, and other applications.

Replaceable cutting edge

Vertical bracing for increased rigidity

Windows for increased operator visibility (72"+ models)

4-In-1 Multi-Purpose Bucket

With multiple functions in one attachment you can save precious time and money dozing, clamming, leveling, and bottom dumping.

Guarded two-cylinder design

NitroSteel™ cylinder rods and Teflon™ coated bushings on all pivots

Replaceable bolt-on cutting edge

Mowers

Brush Mower

Heavy duty gearbox and skid rails to glide across ground

Pressure relief system for equipment protection

Unique automatic float system (66" and 72" only)

6" roller contacts ground for smooth operation (66" and 72" only)

Hitch Plates

Receiver Plate/Ball Hitch

Receiver hitch plate allows you to conveniently maneuver equipment, especially in tight spaces, without additional manpower.

Standard 2" receiver

Safety step

12,000 gross trailering capability

2,000 lb. maximum tongue weight